Nice, I can so imagine you straddling my face, your pussy looks so nice.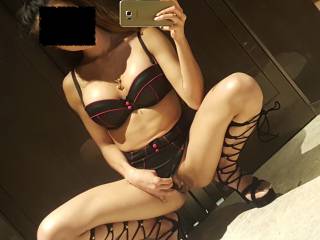 Squat like that on my face so I can pull your panties to one side and lick, kiss and suck on your pussy as you watch my cock get harder and harder.
 I would love to lick your pussy - cum sit on my face and grind your pussy on my mouth while I tongue lash your clit - mmmmmm. I like how you pull your panties to the side while you stradle my face.Ooo my imaginations wild. Hot. Send me something like that to work and I'll be home in 5 minutes. So damn hot! Sit right on my face, grab my hair and grind out as many O's as you want.